Cager York sentenced to 24 years in prison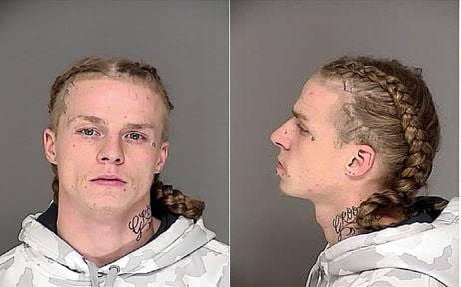 By Terry McConn
A locally notorious convicted felon, who faced about three decades in prison for multiple crimes last year culminating in a vehicle pursuit by law enforcement, received a shorter sentence of 24 years Monday afternoon.
That's because Cager J. York made a deal with the prosecution, agreeing not to appeal his convictions and sentence.
Walla Walla County Superior Court Judge Scott Wolfram accepted the 24-year recommendation in the interest of justice, sparing York a standard-range prison term of 29-33 years.
York, who just turned 25, will receive credit for the time he's been locked up since his arrest. But by the nature of his crimes, he will be eligible for little good-time credit.
York was convicted last month of six felonies, including kidnapping, assault and eluding plus firearms enhancements.
A jury determined at trial the prosecution proved beyond a reasonable doubt that York commandeered a vehicle — driven by a friend, Jason Taylor — at gunpoint before leading officials on the wild pursuit southwest of Walla Walla.
Deputy Prosecuting Attorney Nicholas Holce said in court Monday he proposed the 24-year sentence for several reasons after obtaining the unanimous consent of law enforcement.
Holce told the Union-Bulletin in an email message he believes, had York decided to appeal, the prosecution likely would have prevailed. But "this agreement adds finality to this case and avoids the time and cost associated with an appeal," he wrote.
Also, 24 years — though less than the standard range — is punishment consistent with the law, Holce added.
"It holds Mr. York accountable, and it makes it clear that committing crimes while armed with a firearm will not be tolerated in our community."
The agreement also avoids possible additional trials in that it disposes of two outstanding charges against York.
An unrelated assault case will be dropped. And he pleaded guilty Monday to tampering with a witness, a charge resulting from a phone conversation he had from the Walla Walla County Jail this past February.
He was sentenced to five years for that crime, and currently is serving two years and one month for bail jumping, for which he was being pursued the day he eluded police.
Both those prison terms will be served at the same time as the 24-year sentence.
York's attorney, William McCool, argued Monday for a shorter prison term of 16½ years, equalling the total time of the enhanced penalties York faced.
McCool pointed out that a 24-year sentence is more severe than some murderers receive, even though York didn't physically harm anyone.
"That's simply an excessive period of time for the conduct that occurred there," McCool said.
He told Wolfram he believes York "could and should have refused (the prosecution's sentencing) offer, but he decided to accept."
Had York dealt with the prosecution earlier, before his trial, he could have pleaded guilty to reduced charges in exchange for a 10-year sentencing recommendation.
Testimony at the trial revealed that York and Michaela Rea Garcia were passengers in Taylor's Dodge pickup about 6 p.m. on Feb. 17, 2016, when police tried to stop the vehicle — heading east on Taumarson Road south of Walla Walla — to apprehend York on an outstanding warrant for failing to appear at a court hearing.
Taylor had been in contact with police, telling them York would be traveling with him. The plan was for Taylor to speed, then police could stop the vehicle and York could be arrested.
But York became agitated when he saw the authorities, threatened Taylor at gunpoint and told him not to stop, according to Taylor's testimony.
Taylor told the jury he slammed the gearshift into park and jumped out of the vehicle with his hands up.
York, who was in a rear passenger seat, then climbed into the driver's seat and sped off with Garcia.
The six-mile pursuit continued at high speeds on Plaza Way where spike strips deployed by a sheriff's deputy near Yellowhawk Creek punctured three of the tires.
York headed back to the convenience store near Stateline Road and Highway 125 where Taylor had picked him up. There, York abandoned the truck — which struck a fence — and ran to a Cadillac he had parked there earlier. But a Sheriff's Office patrol sergeant used his vehicle to box the car in, and York fled on foot into a field.
Area agencies searched for York — who has a lengthy criminal history — to no avail.
He ultimately was arrested in Richland three days later.
Last month's trial was marked by decidedly conflicting testimony from Taylor — currently serving time in an Oregon prison for crimes committed in that state — and testimony given by York and Garcia.
York denied threatening Taylor, taking his vehicle without consent, or committing any other crime except for the felony eluding.
Garcia testified she never saw a weapon in the truck or any violence between the two men.
But York's DNA was discovered on a loaded .45-caliber semiautomatic pistol officials found in the truck; Taylor's was not.
Before York was led from the County Courthouse courtroom Monday, he expressed disgust at what he believes is an unfairly long sentence.
"You guys just wanted to set me up and get me off the streets," York proclaimed.